Arthur C. Clarke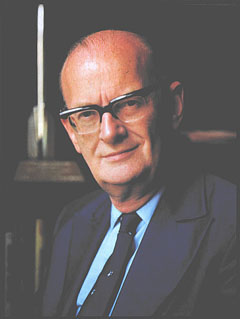 Arthur C. Clarke stands like a colossus over the straits through which the twentieth century has passed. His keen foresight predicted our current advances in telecommunications, computers, artificial intelligence, and biotechnology. Deep Blue's conquering of Gary Kasparov was predicted by HAL 9000's besting of Frank Poole over twenty years ago. Indeed, Clarke not only predicted the future but extended the present -- He is credited with the theory behind geosynchronous satellites, one of the cornerstones of our Information Age. Everyone from CNN to the UN has Clarke to thank for the birth of global simultaneity.
More than just a visionary, Arthur C. Clarke has penned some of the greatest science fiction novels of all time. His 2001-3001 cycle is well known, thanks to Stanley Kubrick and HAL 9000. Yet, other of his works deserve mention too. Rendezvous with Rama envisions mankind's first contact with an alien race, as a mysterious cylinder from the far side of the universe hurtles toward the sun. (No, Jodie Foster's dad is not on board.) Childhood's End depicts a similar first-contact scenario, except this time ships, harboring some strangely familiar aliens, land on Earth to "instruct" Humanity in the ways of the galaxy. As to be expected, this "gift" isn't quite all it's cracked up to be.
Like Isaac Asimov, Clarke has carried the torch for space exploration throughout his life. Whether it be on TV with Walter Cronkite as men landed on the moon or from his secluded home base in lush Sri Lanka, Clarke has articulately conveyed the possibilities of science to ennoble our species.
Open the pod bay doors, please, Hal.
Back to the Library.