"Underneath the spreading chestnut tree, I sold you and you sold me."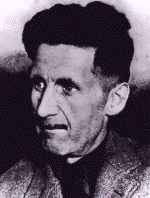 If for some strange, hypothetical reason I was forced to choose one favorite writer or else suffer some violent, permanently disfiguring consequence, my choice would have to be George Orwell. His fiction (1984, Keep the Aspidistra Flying) is profound, his satire (Animal Farm) is keen, and his reporting (Homage to Catalonia, Down and Out in Paris and London) puts many of today's sages of journalism to shame.
Although 1984 remains perhaps my favorite book (it's worth a read a year, just to see how we're doing), Orwell's also deserves much credit for his essays. Never content to merely write about something, Orwell would immerse himself in his subjects, be it Burmese colonialism, poverty-stricken Parisians, English socialists, or the Spanish Civil War. In each case, Orwell forewent the life of Eric Blair to experience firsthand the passions and problems of his protagonists. Yet, in his compositions, he states his biases outright and takes pains never to declare himself absolutely objective.
In sum, Orwell's journalistic devotion and sensibility are admirable and worthy of emulation. He spent his life delineating the differences between theory and practice, and his greatest novel attests to his understanding of the perils of this divide. Like no other, Orwell explored the human realities so often obscured by rhetoric or ideology.
George Orwell.
Back to the Library.