R.I.P. Arthur Schlesinger, Jr. 1917-2007.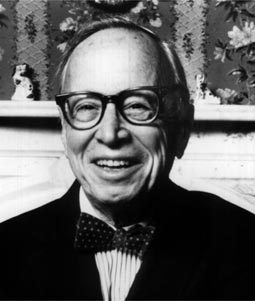 New Deal historian and intellectual-in-residence at Camelot, Schlesinger stands not only a preeminent American scholar but as a lion of liberalism. Although the work of Alan Brinkley is more nuanced and less hagiographic, Schlesinger's extensive writings on the Roosevelt administrations remain (with the work of Ellis Hawley and William Leuchtenberg) a foundation for New Deal historiography. To this day, along with his colleague and compadre John Kenneth Galbraith, Schlesinger is a passionate and articulate voice for Kennedyism and the Great Society agenda. I should note that I don't completely agree with Schlesinger's militant stance against "multiculturalism" (although I do recognize the erosion of common citizenship that he is alluding to) and I find the civic republicanism of RFK more palatable than the liberalism of JFK/TK. Nevertheless, I admire Schlesinger for his wit, scholarship, and devotion to the liberal agenda.

Press on to Schlesinger.
Back to the Library.