Uphill All the Way:
The Fortunes of Progressivism, 1919-1929
By Kevin C. Murphy, Copyright 2013. All Rights Reserved.
Abstract | Acknowledgements | Preface | Prologue
Intro | Part One | Part Two | Part Three | Conclusion
ACKNOWLEDGEMENTS
"Perhaps you may ask, 'Does the road lead uphill all the way?' And I must answer, 'Yes, to the very end.' But if I offer you a long, hard struggle, I can also promise you great rewards."

These are the words of Grace Abbott, the second head of the Children's Bureau, summing up her lifelong experience as a progressive social worker and children's advocate in a 1934 commencement address. This quote is also the epigram of Clarke Chambers' 1963 book, Seedtime of Reform, one of the first book-length examinations of the fate of progressivism in the Twenties. It is certainly a very reasonable approximation of the experience of many of the progressives in this study during the decade in question. And, as anyone who has ever trod along the long, lonely road of academe can tell you, "Uphill All the Way" is also an apt summary of the often-Sisyphean task of researching and writing a history dissertation. This particular boulder rolled back to the starting point many times over in the seven years since I first embarked on this project. It would never have made it over that final crest without the support and encouragement of the many listed below.

I would first like to thank my advisor, Alan Brinkley, the other members of my dissertation committee, Elizabeth Blackmar, Eric Foner, David Greenberg, and Ira Katznelson, and the American history faculty of Columbia University for their advice, their teachings, and most of all their patience. Thank you also to the hardworking and friendly archivists at the Library of Congress, where I conducted the bulk of my offline research.

I also want to thank my colleagues at the Office of Rosa DeLauro, where I began full-time work as a speechwriter in the midst of this project, and who were kind enough to offer their support and tolerance when I decided to complete in my off hours what I had started years prior. Special thanks go to Liz Albertine, Eric Anthony, Kevin Brennan, Melinda Cep, Sarah Dash, Kelly Dittmar, Matt Doyle, Sara Lonardo, Asa Lopatin, Letty Mederos, Beverly Pheto, Kaelan Richards, Brian Ronholm, Elyse Schoenfeld, Lona Watts, Megan Whealan, Jasmine Zamani, Dan Zeitlin, and Congresswoman DeLauro herself, who, ninety years later, continues the same fight for a more progressive America that is chronicled in these pages.

This dissertation, like most other works of research, could never have come together without the hard work of the dozens of scholars who gleaned these archives and pulled on these same threads before. So I would like to thank the many historians whose work I have cited here, and whose body of research was indispensable to me -- particularly Leroy Ashby, Wesley M. Bagby, Dorothy Brown, Clarke Chambers, Nancy Cott, Alan Dawley, Robert David Johnson, David Kennedy, Thomas Knock, William Leuchtenburg, Laton McCartney, Ronald K. Murray, Donn Neal, Burl Noggle, David Pietrusza, Arthur Schlesinger, Jr., and Howard Zinn. I also want to acknowledge and thank Dr. Carlanna Hendrick, my high school American history teacher who, two decades ago, helped set me on the path that culminated in this project today.

Along with my debt to the past, I want to acknowledge my debt to the future. I could never have completed this project without the gigantic and growing archive of resources available to all via the Internet. From the Google Books and UNZ.org portals, which make available thousands of useful primary and secondary sources to anyone who goes looking, to magazines like TIME, The New Republic, and The Nation, who now have all of their back-catalog online for subscribers' use, the practice of historical research is changing for the better, and I and this study have been clear beneficiaries.

Thanks also to my friends and fellow boulder-pushers in the Columbia History program, who helped to enrich my days as a graduate student and keep my spirits up in the early days of this project -- especially Sarah Bridger, Ben and Vivian Coates, Alex Cummings, Jason Governale, Susan Jean, Ryan Jones, Emily Lieb, Liam Moore, Amy Offner, Giovanni Ruffini, Ted Wilkinson, and Josh Wolff. Thank you all.

I also want to thank my other friends in and around New York who helped sustain me through the graduate school years, particularly Olaf Bertram-Nothnagel, Lauren Brown, Mike Fernandez, Moses Gates, Maria Gambale and Zachary Taylor, Arkadi Gerney and Nancy Meakem, Lisa Halliday, Jennifer Martinez, Mark Noferi, Amanda Rawls, Alex Travelli, Joyce Wu, and Daniel Yohannes. Thank you also to my friends in DC: John Anderson, Steve Bogart and Lynette Millett, Tim Cullen, Lotta Danielsson, Mike Darner, Tony Eason, Alex Lawson and Laila Leigh, Marisa McNee, Dave Meyer, Matt Stoller, and Shaunna Thomas. A special thank you to Erin Mastrangelo, who helped give me the strength and confidence, when I found myself back at square one once again, to make one final, sustained push up the hill. And thank you to all the friends and readers who have sustained me at Ghost in the Machine over the years.

And the deepest of thanks to my closest and dearest friends, who have provided much support and encouragement over the long course of this project -- David Demian, Jeremy Derfner, Marcus Hirschberg and Bea Wikander, Kofi Kankam, Randolph Pelzer, Danny Sanchez, David Weaver, and Jonathan Wolff. And many thanks to my family -- my sisters Gillian and Tessa, my brother and brother-in-law Thad and Ethan, and especially my parents Paul and Carol, for their love, encouragement, and support throughout every stage of this process.

Finally, I want to acknowledge my faithful sheltie hound Berkeley, who came with me as a young pup to graduate school in the fall of 2001, and who saw this project through with me until its end in the fall of 2012. It has seemed like a lifetime for the both of us. And yes, now we can go to the dog park.

-- Kevin C. Murphy, October 2012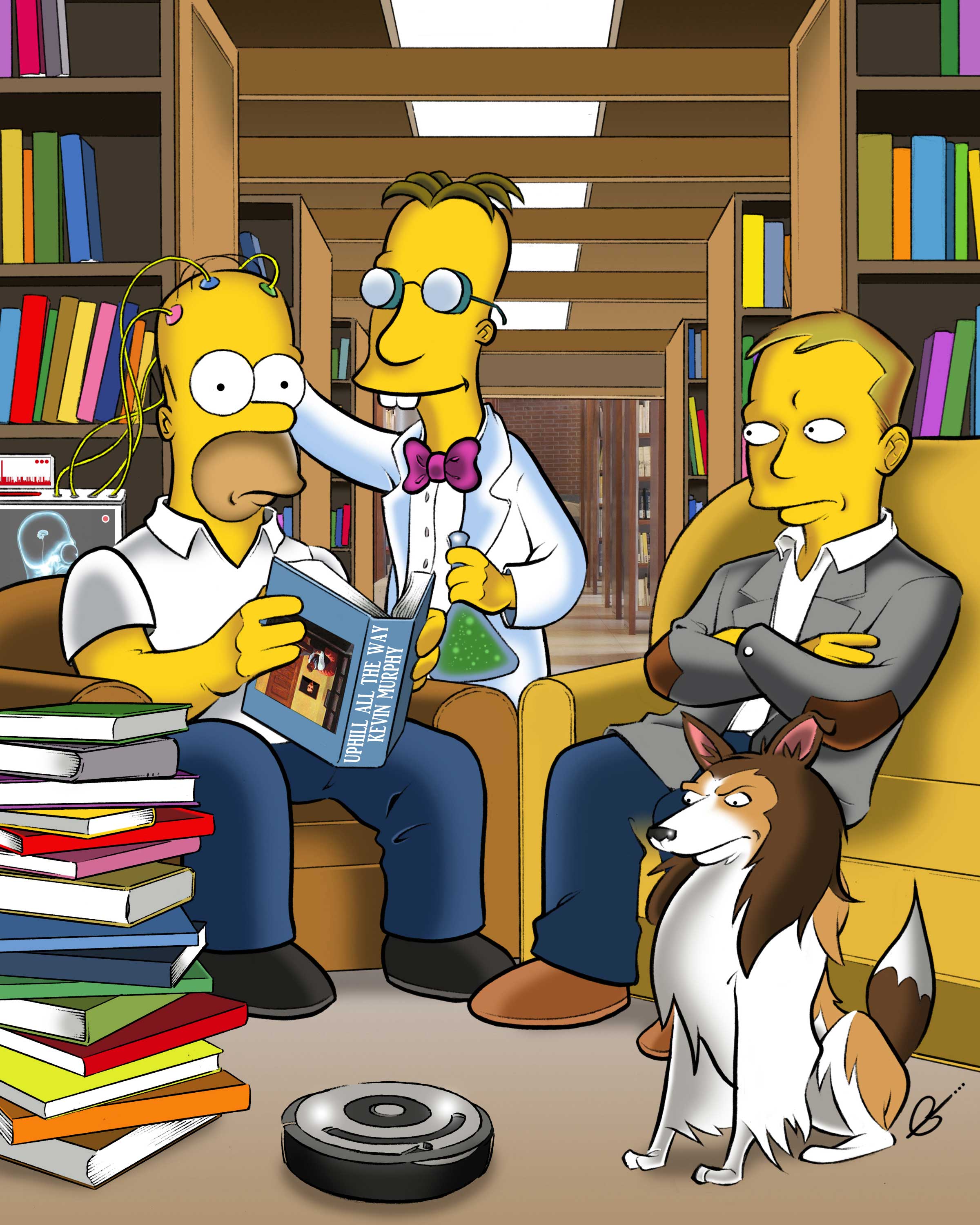 Or can we? (One more sec, Berk.) As a brief addendum to this online edition of the dissertation, I want to thank everyone listed above once again for their friendship, sustenance, and support.

Thanks also to all of the websites from which I procured images to complement the text for this online edition. I have linked back whenever possible, and I believe all of them are in the public domain and/or acceptable for the site under fair use, but please let me know if you desire one removed. A special thanks to Marla Norton of Pixelzz, who allowed me to use the "La Follette Forward" image appearing on the splash page.

I also want to thank Amy Murphy for finding the first non-committee, non-parental reader of this text (albeit apparently under duress) in Mr. Homer J. Simpson, at left. The illustrious Professor Frink was not on my committee, but I have found his experimental results fruitful regardless.

And finally, thank you, dear reader, for dropping by. Hopefully your experience here with the online version will be just as electrifying at it was for Mr. Simpson. If you have any thoughts or comments, feel free to contact me, and happy reading.

-- Kevin C. Murphy, July 2013



Continue to Preface.

Return to the Table of Contents.



[Download Uphill all the Way: The Fortunes of Progressivism, 1919-1929 as a PDF.]

Main Page/Family/Links/Gallery/Biography/Soapbox/Resume/Writings/Weblog

If you found this dissertation useful or entertaining, please consider contributing to the tip fund.
Alas, history isn't the wildly remunerative discipline it used to be.